This is the block I chose for my quilting bee month.
I love the color wheel effect.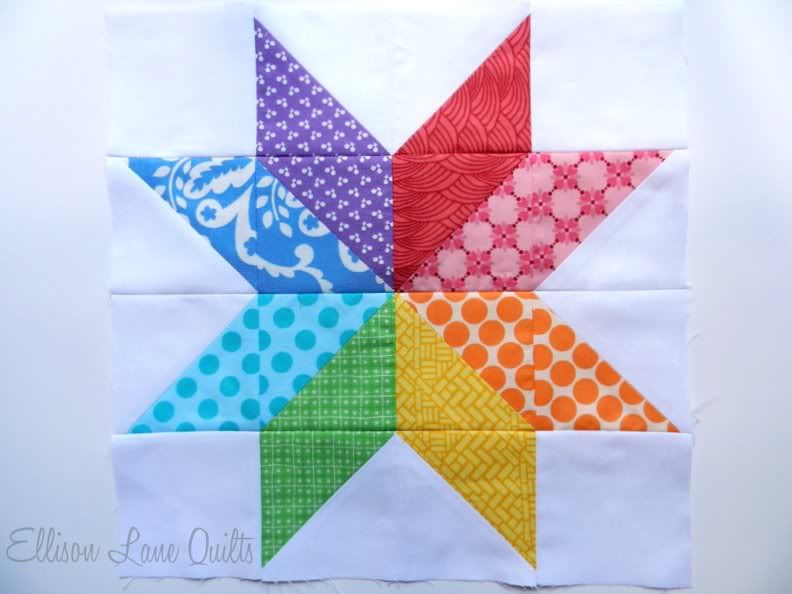 This is my finished quilt.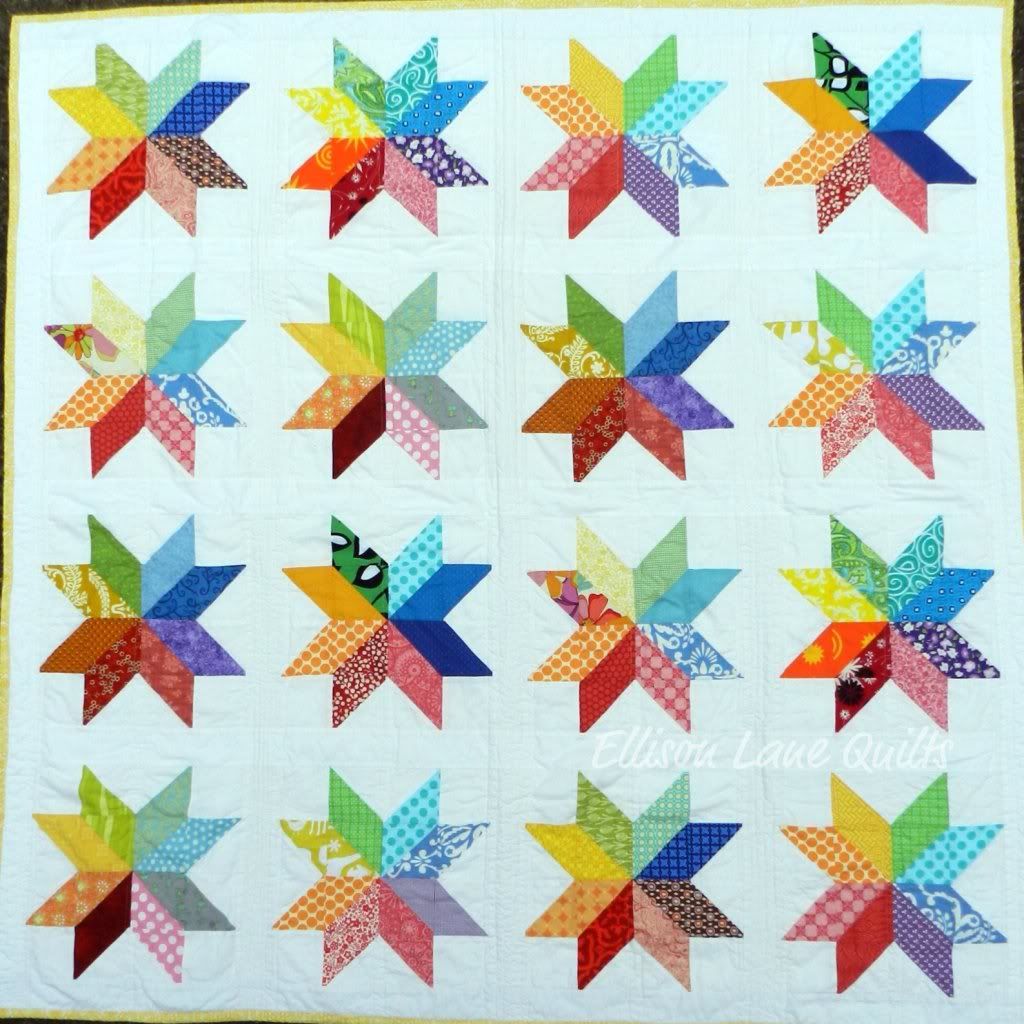 It is a fairly easy block to make if you take your time plus, you get two blocks for the price of one! Gotta love efficiency!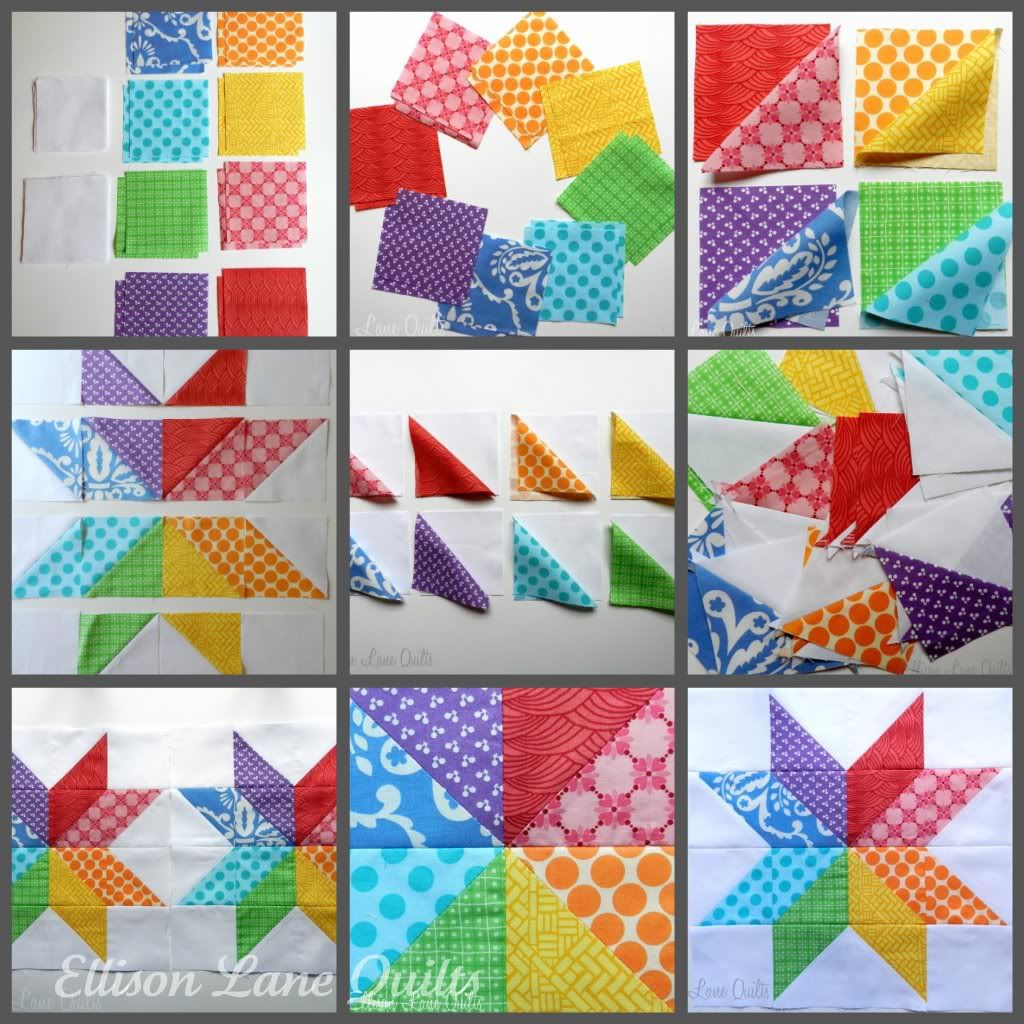 To make
2
(12.5" finished) blocks you will need the following supplies:
8 white squares measuring 3.5" x 3.5"
8 white squares measuring 4" x 4"
16 colored squares (8 colors, 2 of each color) 4" x 4"
3.5" square up ruler (very helpful)
optional: quarter inch foot
Special Notes:
Non-directional prints work best
Half square triangles are sewn together using a quarter inch seam. When you sew the blocks together, you will use a scant quarter inch seam.
1. Lay out your fabric in sets grouped by size and color.
2. Place your colored squares in a circle to see where you want them to go in your finished block. I chose a color wheel type of layout.
3. Make note of their placements as you will need to know this later on. My colors go in the following order, clockwise: red, pink, orange, yellow, green, aqua, blue, purple.
4. Divide the 4" x 4" colored fabric squares into two groups- put one of each color in each group. Set aside four 3.5"x3.5" white squares. You will use all of these squares for the second block.
5. Now is the time to make half square triangles (HST) for your blocks.
6. Keeping in mind your color order, place your 8 colored squares together, right side, to right side. Place the following colors together: red/pink, orange/yellow, green/aqua, blue/purple. You will now have 4 pairs of colored squares.
7. Using your ruler and a pencil, make a diagonal line across the back of the fabric square pair.
8. Now, line up your presser foot with the pencil line so that you sew a quarter inch from the line. You do not need to backstitch!
9. After sewing on one side of the line, turn your square around and line up your presser foot again, sewing a quarter inch from the pencil line on the opposite side.
10. Now you should have stitches a quarter inch from the pencil line on both sides.
11. Line up your ruler with your pencil line and use your rotary cutter to cut along the line. This will produce two triangles that when open, are a square.
14. Repeat steps 7-13 with the remaining colored squares pairs (orange/yellow, green/aqua, blue/purple.)
15. Take the additional 8 colored squares and place them right sides together with the 8 white 4" x 4" squares.
16. Follow steps 7-13 to create half square triangles.
17. Great job! The hardest part is finished! You should now have a lot of half square triangle blocks.
18. Organize your blocks.
19. Set aside one row of colored blocks and one row of colored and white blocks. These will be for your second starflower.
20. Now, place your blocks in the appropriate layout.
22. Next, sew the middle two blocks together from each row.
23. Now, sew the outer blocks to the inner blocks on each row.
Please note that while your seams will line up, it may look like your colored fabric doesn't line up. That is normal!
You should now have 4 rows of 4 blocks sewn together.
24. Take the first and second rows and place them right sides together. It is very important to line up the seams carefully! Having pressed the seams open will help you line up your blocks more easily.
Use several pins to make sure the blocks don't move.
25. Sew your two rows together using a scant quarter inch seam.
Open your rows and examine your seams. Do they line up? If not take out the seam ripper and undo your stitches, then try again. (I've had to do this several times before!)
26. Repeat steps 24 & 25 with the remaining two rows.
27. Press your seams open.
Remember the blue and green fabric that didn't seem to line up in step 23?
All fixed!
28. You now have a top and bottom set. Place the top set onto the bottom set making sure the seams line up exactly. Pin liberally then sew together using a scant quarter inch seam.
29. Open your finished block and check your seams.
Do they line up to your satisfaction?
If so, press your block and admire you work!
Congratulations- you've completed your starflower block!
If you aren't satisfied with the finished product, get out your handy seam ripper and have a do-over.
When I made these blocks, the first one didn't line up exactly even though I took the final row of stitches out three times. And after three do overs, the red and pink are still slightly off point.
On the second one, I paid extra close attention to the placement of my seams and it turned out perfectly.
Either way, the blocks look fabulous and will be beautiful in a quilt!
They would also make great pillows!
No matter what you do with these blocks, don't let small imperfections discourage you. The more blocks you make, the more precise you will get!
Happy Sewing!
If you make one of these blocks, I would love to see it.